This is actually from some time ago, but it wouldn't hurt to post it up now! Since it wont take much time and I really need to update my blog once in a while, lol :D
I still haven't used them, but it would be great to see if they are any good compared to Sally Hansen's strips! There are actually a few hidden designs in the package so I took a bonus photo for you:
100cm Elegant White Beads Line Chain Nail Art Decoration
Already tried it out too. It was actually quite hard to get them on! :( The nails look great untill you focus too much on them, haha.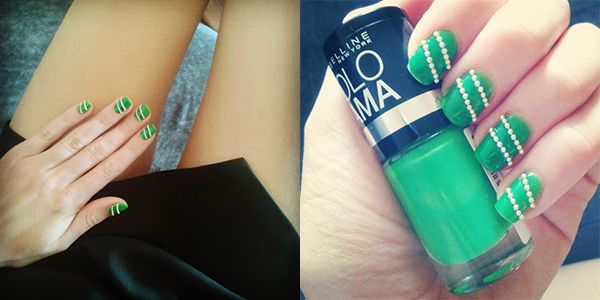 And the last product isn't nail-related, but what can I say - I really needed a ruler that looks like a giraffe in my life. Besides I don't think local stores even sell regular rulers that cheap. $0,99 is around 0,80€ But then again, I haven't checked ruler prices for a while... :D
1Pc Cute Giraffe Elefant Cartoon Ruler (Random Pattern)
Hope you found it interesting and don't forget to enter my giveaway if you haven't already!
This one will end on 9/21/2013, but I'll start another one very soon!
Check me out on other social platforms: