This time I was asked to review new Vassen lenses called 'Butterfly'.
LoveShoppingholics
kindly sent me two pairs as I said that I like brown and gray lenses the most.
As always, the package included a cute box, colorful animal lens cases & a 'thank you' card! Also you can finally see how blind I am what my lens prescription is.
LEFT:
Vassen Butterfly Gray
RIGHT:
Vassen Butterfly Brown
Did you notice the butterfly print on them? :)
It doesn't show well on eyes, though, but you do see that they have
an unique pattern
.
Vassen Butterfly lenses have an interesting black limbal ring and the color changes into golden yellow in the center. Although on my blue eyes yellow tends to look more like green. Anyway, the lenses look quite unnatural, doesn't matter what your eye color is, and need heavy make-up to balance them out. At least that's what I think. I suppose some people would like that look, tho.
I always take at least one or two photos like this because I like how my lenses look on these. I never post them, though. But this is a lens review after all, hmm... Oh, speaking of the lenses, if you look up once again, see how cool the black ring looks on that photo. :)
Final thoughts
I have been wearing both of these, but I prefer gray on me. They are really unique, but I don't think they are the ultimate must-have lenses, rather something you would add to your lens collection if you already have a lot. For example, I'm sure a true lens guru would want to try them out.
The lenses are also available in: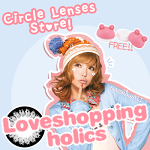 Check me out on other social platforms: