Earlier I mentioned that MAC will release 4 different collections for holidays. I already introduced Heilroom. The remaining 3 collections include lots of kits, palettes and sets that are perfect for presents. In fact, MAC only launches sets like this around holidays.
MAC 'Objects of Affection' sets.
M∙A∙C Keepsakes – Available November 1st, 2014
Give your look the royal treatment this holiday with
M∙A∙C Keepsakes Face Palettes
, available in two colour palettes,
Natural and Smoky
. Each features three Eye Shadows, one Iridescent Pressed Powder, a Cream Colour Base, and two Lipsticks housed in glittering cameo medallion-accented compacts. (58€)
Fulfill your regal aspirations with the shadows in
M∙A∙C Keepsakes Eye Kits
. Three limited-edition compacts contain eight coordinated shades in palettes of
Plum, Smoky and Beige
. The sleek, mirrored compacts sparkle in glittery grey, black and white, each accented with a chic cameo. (45€)
Colour reigns supreme in chic, coordinated sets for eyes and lips. M∙A∙C Keepsakes Lip Bags feature posh shades of Lipstick, Lipglass, and Lip Pencil in three colour palettes: red, nude and coral. M∙A∙C Keepsakes Eye Bags make the perfect evening impact as treasured hues of Eye Shadow, In Extreme Dimension Lash and Eye Pencil come together in three majestic palettes: smoky, plum and brown. (38€)
For a look to treasure,
M∙A∙C Keepsakes Gold Lip + Eye Bag
and
M∙A∙C Keepsakes Silver Lip + Eye Bag
feature quads of four Mineralize Eye Shadows accented with Mineralize Rich Lipstick and frosted Mineralize Glass, packaged in a sleek glitterized grey clutch with a cameo-embossed zipper pull.
Exclusive retailers only.
(65€)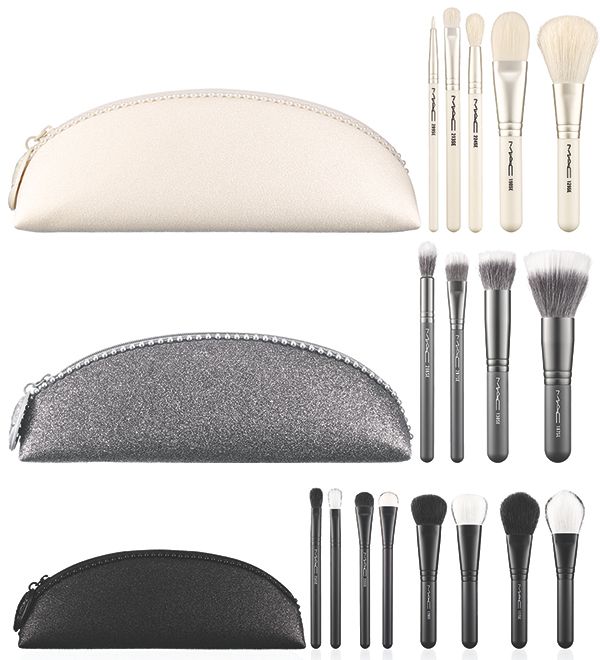 No cameo appearance is complete without a look that's positively resplendent. Three M∙A∙C Keepsakes Brush Kits in Mineralize, Studio and In Extra Dimension give endless options for a rendezvous you'll never forget. (62€)
The crowning glory of gift giving,
M∙A∙C Keepsakes Giftable's
exclusive gift bags feature the signature look of their limited-edition holiday collection. Sleek, glittering bags in black, grey and white are accented with a satin ribbon and cameo medallion. Sized to perfection for treasures large and small.
Colour takes over this holiday in a collection of mini kits.
M∙A∙C Objects of Affection Pigments
and
Glitter
are the guilty pleasure of the season, in four shade waves:
Silver and Blue
,
Pink and Rose
,
Gold and Beige
, and
deep Bronze
.
M∙A∙C Objects of Affection Lipglass kits
embellish lips in shades of
Pink and Plum
,
Nude and Red
and
Nude and Coral
. (35€)
M∙A∙C Viva Glam - gifts that give back!
Rihanna continues her successful reign with M∙A∙C as the star of VIVA GLAM. Modern shades of red and gold frosted Lipstick are bold in velvety soft packaging
featuring RiRi's signature. The hues are paired with this season's limited edition M∙A∙C Viva Glamorous Bag. (45€)
For the first time, six of their most iconic VIVA GLAM shades are housed together in the M∙A∙C Viva Glamorous Lip Palette compact. (41€)
Every cent of the selling price of
VIVA GLAM products goes towards helping women, men and children living with and affected by HIV/AIDS.
✾
So,
any thoughts?
Although this post included a lot of awesome sets I still find
Viva Glam
to be the most intriguing. I mean, you can buy a lipstick AND donate money. And it's not all talk either. I read this wikipedia article and learnt that over 18 years Mac AIDS Fund has raised more than 300 million dollars.
Check me out on other social platforms: