I wanted to try those, because they are different from the kind of lashes I usually wear. However, they just confirmed me that I'm really not the 'natural eyelash' type of girl. It's a good thing the package includes two pairs so I can glue them together like this:

On the left side there's one pair of lashes and on the right there are two pairs glued together. So I decided to wear two pairs at once to have thicker lashes.


LoveShoppingholics
also sent me a pair of lenses that I picked out. So you'll see me wearing the lashes with them below.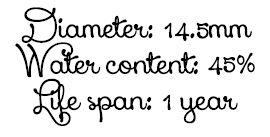 The pattern on the lenses is very sheer and you can definitely see my own iris underneath the lens, which is not nessesarily a bad thing. I actually like it when lenses create these light circles that remind me of crescent moon around my eyes. Even though they have yellow on them, it doesn't show when worn. Yellow probably helps to blend in the pattern, though.
Btw, the lenses are very thin which makes them extremely comfortable to wear. :)
Vassen/Fynale "Naomi" range also contains:
Final thoughts
It's a shame I had to use both pairs of the eyelashes already, but I like how they turned out. :) The combination of the lashes and lenses also looks very nice!
What's your opinion on the products LoveShoppingholics sent me?