I'm excited to share another set of my jewelry picks from
Born Pretty Store
! The theme for this one is clearly "silver & pearls", even though I'm not usually the one to go for silver tones. However - a little change can only be good, right?!
Pearls are probably my biggest weakness when it comes to jewelry. I unintentionally picked out 2 pairs of earrings which both have pearl details. I also got a classical set of alloy rings and a crystal pendant that simply looks magical!
I already said this in my previous Born Pretty review, but
Born Pretty Store
is a great place for jewelry shopping. They carry a lot of affordable accessories, so you can
get a variety of products without spending too much
. To give you a better overview I included the price of every product with links. :)
$2.99
Delicate Pendant Alloy Earrings
$1.25
$2.49
It's a set of 4, but unfortunately 2 of them are too big for my tiny fingers, so I recommend checking the diameter of the rings with more thought than I did. Other than that they look beautiful & I wish they came in S, M & L maybe?
$3.10
Although they are all super cheap, they look rather good. Or what do you think? :) Apart from cheap prices, Born Pretty Store also offers free shipping worldwide! Use my coupon code KMNT10 to enjoy an extra 10% off your order.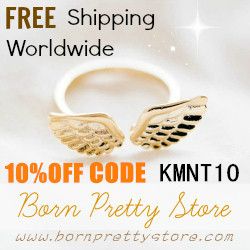 Lastly, don't forget to comment and share your opinion!
Which one out of these accessories is your favourite?